Street Fighter IV hits iPhone and iPod touch in March!
: "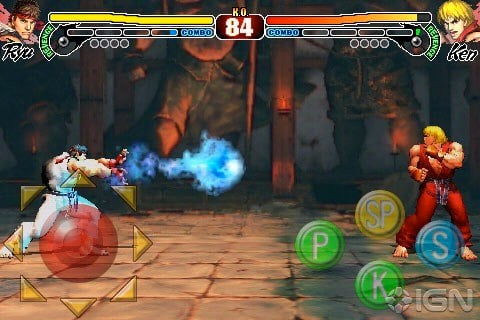 Okay,
Capcom
, you've definitely got our attention with the announcement that Street Fighter IV will be coming to the iPhone and iPod touch sometime next month. In fact, we are sure that iPhone gamers in general are pretty stoked to see the amount of time that Capcom put into this game in order to make it feel as close to the console versions as possible on a small touchscreen device. Truth be told, all the character models, stage backgrounds, super combos, hyper combos, and all the rest are here in full (well, if by full we mean they are all there, just scaled down.) Currently, we have both Ryu and Ken confirmed, and while Capcom isn't giving too many more hints for now, they have said that the roster will feature a mix of older characters and the newer Street Fighter IV characters.
Control is done with an on-screen joystick on the left, and four attack buttons (two punch, two kick) on the right. You also get local multiplayer over Bluetooth, which is awesome. We will definitely be keeping our eyes on this one, and will get more information to you as soon as we have it!
Tags:
capcom
,
iphone games
,
ipod touch games
,
sidefeatured
,
street fighter
,
street fighter 4
,
street fighter 4 iphone
,
street fighter iv
,
"